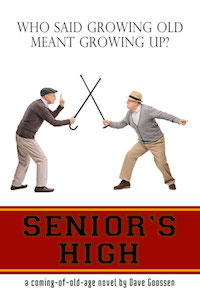 Who Said Growing Old Meant Growing Up?
"What's through there?" Paul asked, looking at a pair of sturdy hospital doors at the end of a short corridor.
"That's the secure wing of Shady Acres," Kevin Wright, the retirement home's owner, replied.
"Secure in what way?" Paul asked, leaning on his cane.
"Passcodes required for entry to keep everyone safe. The third floor is our Memory Care residents-those with Alzheimer's and dementia. The second floor is for Assisted Living and then the ground floor for Extended and Final Hospice Care."
"And after that, down to the basement then we go right into the ground," Paul quipped. Nobody laughed.
~Senior's High
Having moved with his family from Montana to North Carolina, Paul Carter, a feisty octogenarian, rebels against the owner of his new seniors home, stirs up the other residents and causes havoc for his daughter, Natalie, and teenaged grandson, Devon.
But when management clamps down on everyone's freedoms, Paul must fight for all their rights before it's too late.
A novel about growing old, growing up and trying to find your way, no matter how old you are.
Sign up for my email newsletter to keep up to date on publishing info!