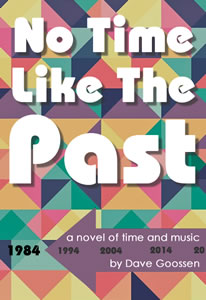 What do you do with TIME is out to get you?
When newly unemployed Colin discovers the house he's rented with his best friends for years is going to be torn down and turned into another condo development, he realizes the only way they're going to be able to stay in the grossly over-inflated Vancouver housing market is for him to use a one-time only time machine to go back 33 years – to 1984, the best summer of his life – and, while enjoying the music and nightlife of his youth, change just enough to set them up for the rest of their lives.  But TIME might have a thing or two to say about that…
A novel of the music of our youth, the struggles of adulthood, and how change happens – to us and the places we love – whether we like it or not.
UPDATE, December 2017
I successfully completed NaNoWriMo 2017, finishing my first draft of this novel, 74,001 words, and I'm very happy with both my writing and the accomplishment of that many words in under a month! Now on to the second draft!
Coming in 2018!