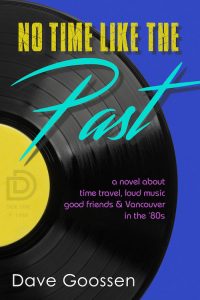 Not all loose threads should be pulled…
When newly unemployed Colin Yip discovers an ancient family heirloom is a time machine, it looks like his troubles might be over.
He and his friends devise a perfect time-heist to dramatically improve the rest of their lives. Their plan is simple: Colin steals from the past to save their future, but every change he makes while back in time is sending unforeseen ripples forward to impact the present.
By returning to the best summer of his life, Colin risks altering his past, which could shatter his dreams by turning his hometown into a scorched and desolate wasteland.
Knowing the risks, would you gamble on destroying the lives of those around you for a chance at happiness?
A novel of loud music, lifelong friends, and Vancouver in the '80s
Coming in 2020!