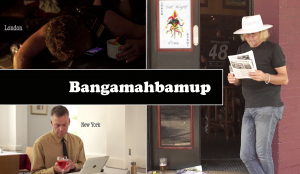 With the treatment all done, I promptly forgot all about it.  I had a short film to finish by the end of the summer and lots of work and travel in between.
Then I got all motivated and started writing a novel mid-summer 2015.  the next sixteen weeks were spent writing every day until the start of October.  Not wanting to stop that forward momentum, I opened up the treatment I had written and started writing my first screenplay in probably a decade.  [I think mymobster.com was the last one I wrote]
Luckily, I was working with characters I knew really well, and in only 23 days, I had the first draft of the full screenplay.  It really was a joy to write, and I found myself laughing out loud at the situations and dialogue coming out of the characters.  Some of the funnest writing I've done.  And so much faster than a 90,000 word novel!
Next up for me is to write the first draft of a new novel – the sequel to 12 Cups of Coffee – and after that, I'll dive back into Bangamahbamup for a second draft.  But, I've got to say, the first draft is really good. 🙂